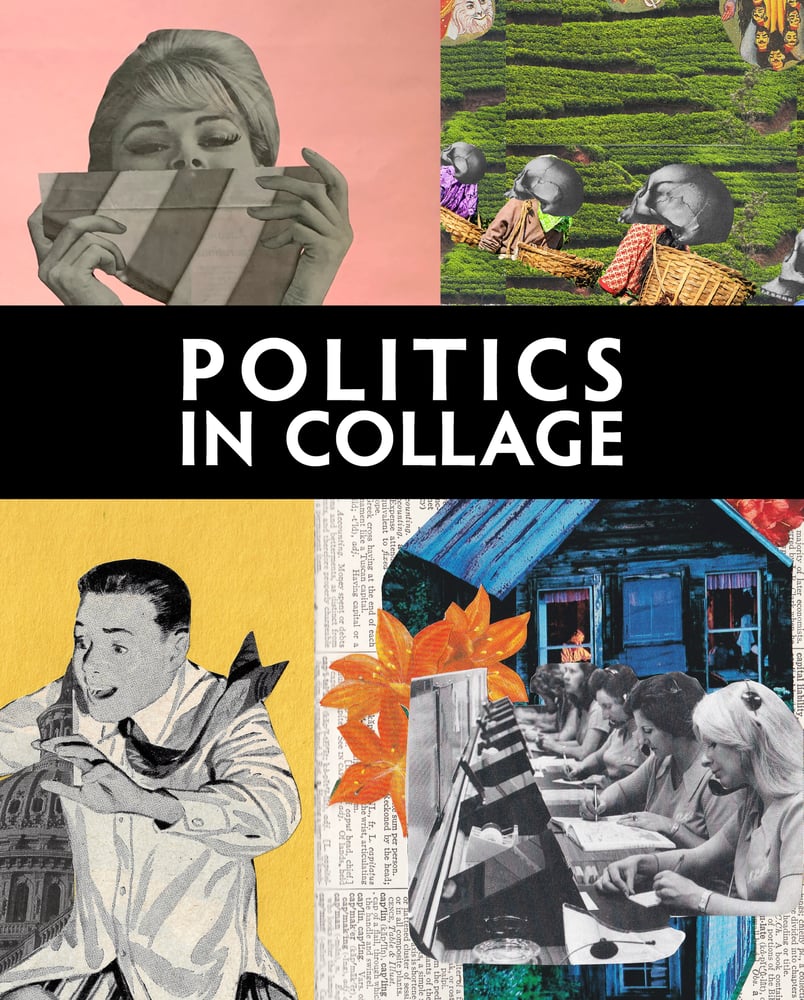 Politics in Collage
by Kolaj
and Kasini House
$

20.00
---
---
In a time where the challenges facing us as individuals and communities have grown to seemingly insurmountable levels, further exacerbated by the increasing toxicity of the political climate, artists are using their work to confront these challenges by engaging their viewers in a higher level of discourse. Through a virtual residency, twenty-five artists created collage works examining complex socio-political issues that contemporary society is contending with, in order to spark meaningful dialogue and inspire deeper engagement.
Although the main thread running through Politics in Collage is "political" in its broadest definition, each artist chose specific issues to explore through the medium of collage. Their artwork allows viewers an opportunity to reflect on various forms of racism, ableism, sexism, and xenophobia; the consequences of colonization and capitalism; the effects of contemporary media; and the eco-grief or anxiety associated with climate change. By using collage, a form composed of juxtaposing a variety of disparate elements together, the artists are able to tell nuanced stories about their highly complex topics, inviting the viewers to regard a potentially overwrought issue from a fresh angle.
Curated by G. E. Vogt
Artists: Kike Congrains | Neha Luhar-Trice | Gayathiri Kamalakanthan | Susana Belen | Jordan Fobbs | Mori Anderson Hitchcock | Xxavier Carter | Jenn Arras | Jana Zimmer | Phyllis Famiglietti | Penny Mateer | Stephanie Todhunter | Cathy Greenhalgh | Nola Abboud | Patricia Figueiredo | Carmen Angela Yandoc | Alexander Helmintoller | Simone Löhndorf | MaryHope Lee | Emily Tironi | Amanda Lynch | Dawn Conry | Lilith Frakes | Bryan Robertson
CANADIANS: Go HERE for Canadian Dollar pricing.
DETAILS: 44 pages | 10"x8" | perfect bound booklet | ISBN 978-1-927587-62-1 | 2022 | Published by Kolaj Institute & Kasini House