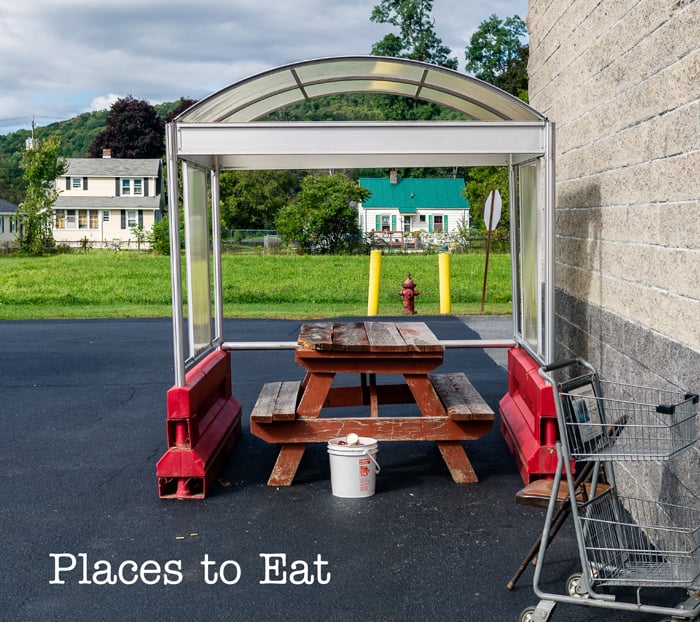 Places to Eat
by Stephen Schaub
$

20.00
---
---
"The thing that stuck out to me the most was the crazy places that people think are places to eat. The one of the supermarket, which is the cover, is where the employees go and have their lunch, when they're not working at the supermarket. It's super bizarre," said Schaub. "What we construct as to where we're going to eat and the type of food that you think you're going to have in that environment is very different."
Places to Eat by Stephen Schaub is a collection of twenty-five photographs of places where people eat: a retro-diner, a fish and game club, outside a supermarket, fast food and fine dining restaurants. Photographed without people, the pictures show a variety of tables and chairs. These objects are informed by the spaces they inhabit, the places people choose to engage in the most basic human act of eating a meal.
Places to Eat is part of "One Week One Book", a series of photographic art books that explore a single theme. Anthropologic, quirky and sometimes voyeuristic, the books look at wide-ranging subjects, from portraits of the backs of people's heads, to still-lives depicting the contents of their refrigerators. The title of the series, "One Week One Book", is both a statement of artist intention and call to action for the reader. Schaub challenged himself to make a photographic essay on a single subject, and turn it into a book, every week for twelve weeks. READ ABOUT THE SERIES
Places to Eat is available as a single book or in a set of twelve titles.
DETAILS: 62 pages | 8"x9" | perfect-bound | 2020 | ISBN 978-1-927587-45-4 | Published by Kasini House