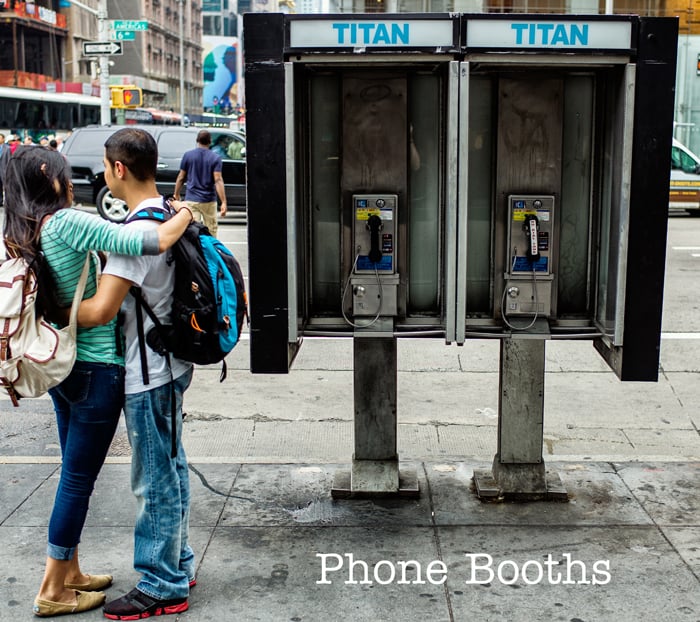 Phone Booths
by Stephen Schaub
$

20.00
---
---
The phone booth was an icon of the 20th century. Widely introduced in the 1920s, they provided a refuge in public space where one could have a private conversation, a phone call so urgent, it could not wait. In the 21st century, the remnants of the phone booth are monuments to the past.
Phone Booths by Stephen Schaub is a collection of twenty-seven photographs taken primarily in New York City with some additional shots from Massachusetts and Nebraska. The pictures turn the phone booth into lonely objects, no longer a tool of communication, now a disregarded and abused piece of urban infrastructure.
"If you really stop and look at a phone booth nowadays, they are being used for everything but for people making phone calls," observed Schaub. "People use it to lock up their bikes or leave their empty drink cups." A well-kept bank of phone booths in the Albany/Rensselaer train station shows two in disrepair. One photograph shows the empty red husk with no phone at all. Phone Booths captures the final days of an iconic object.
Phone Booths is part of "One Week One Book", a series of photographic art books that explore a single theme. Anthropologic, quirky and sometimes voyeuristic, the books look at wide-ranging subjects, from portraits of the backs of people's heads, to still-lives depicting the contents of their refrigerators. The title of the series, "One Week One Book", is both a statement of artist intention and call to action for the reader. Schaub challenged himself to make a photographic essay on a single subject, and turn it into a book, every week for twelve weeks. READ ABOUT THE SERIES
Phone Booths is available as a single book or in a set of twelve titles.
DETAILS: 66 pages | 8"x9" | perfect-bound | 2020 | ISBN 978-1-927587-43-0 | Published by Kasini House