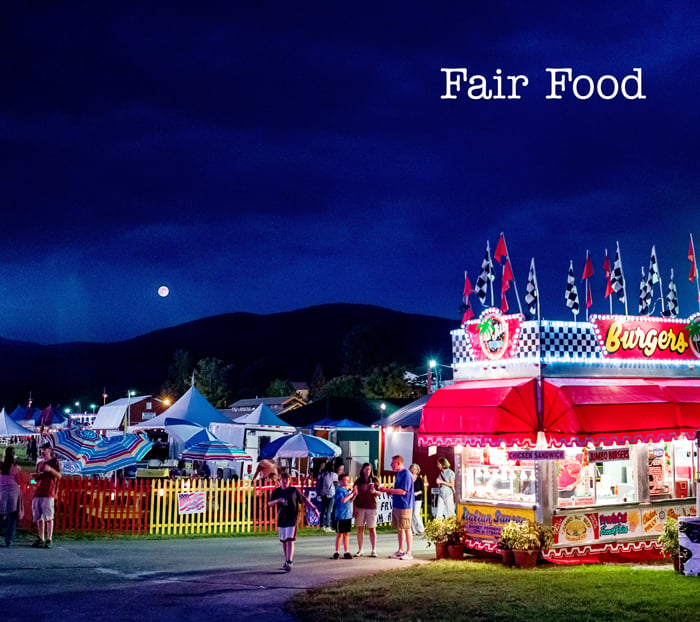 Fair Food
by Stephen Schaub
$

20.00
---
---
"There's nothing subtle about fair food. Like everything else on the midway, the food vendors compete for your attention on the most basic level: neon lights, flashing colors, flying flags. Similarly, the ingredients appeal to our most basic of taste instincts--sweet, fat, salt--sometimes all three at once. Fair food is fast food on steroids."
Fair Food by Stephen Schaub is a collection of thirty-five photographs shot at The Vermont State Fair in Rutland and the Washington County Fair in Greenwich, New York. A young girl peers out of a window selling Elephant Ears and Funnel Cakes. A man orders a drink from a giant lemon. "The smells, the sound, the noise, there is the overwhelming nature of it, but also a visual language: all the signage, all the different words, and all the different letters. It's a very overwhelming experience," said Schaub. "I was interested in how people relate to this food, how the environment that they're in dictates how they're going to relate and the type of food that you expect and you're going to have."
"I'm fascinated by the things that people would actually put in their bodies and say that it's actually food. Because very little at a fair is actually food." Fair food is an amusement park ride for your digestive system.
Fair Food is part of "One Week One Book", a series of photographic art books that explore a single theme. Anthropologic, quirky and sometimes voyeuristic, the books look at wide-ranging subjects, from portraits of the backs of people's heads, to still-lives depicting the contents of their refrigerators. The title of the series, "One Week One Book", is both a statement of artist intention and call to action for the reader. Schaub challenged himself to make a photographic essay on a single subject, and turn it into a book, every week for twelve weeks. READ ABOUT THE SERIES
Fair Food is available as a single book or in a set of twelve titles.
DETAILS: 82 pages | 8"x9" | perfect-bound | 2020 | ISBN 978-1-927587-40-9 | Published by Kasini House