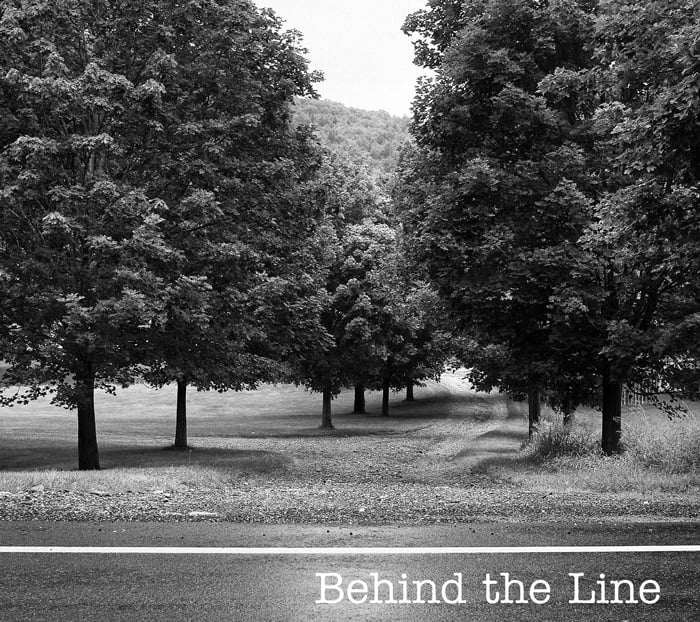 Behind the Line
by Stephen Schaub
$

20.00
---
---
"The ubiquitous white lines on paved roads function in an interesting way: visually they suggest the beginnings of a frame. Aesthetically they can be very beautiful, a counterpoint to the organic landscape beyond. Conceptually they suggest a barrier, but physically they present none."
Behind the Line by Stephen Schaub is a collection of twenty-two photographs of landscapes framed by the white line demarcating the road and the shoulder. In these pictures, the white line is a starting point, the beginning of an experience different from that of traveling: a path through a stand of trees or between two barns; a herd of cows; a swim-spot on a lake; a hall of hay bales.
Shot in Vermont, Lake George, New York and North Adams, Massachusetts, the photographs as a collection reflect how a common element can build a theme and train the eye to look at the world differently. In making the book, Schaub "reflected upon how the line became a finish line or a start line. I thought of it both ways."
Behind the Line is part of "One Week One Book", a series of photographic art books that explore a single theme. Anthropologic, quirky and sometimes voyeuristic, the books look at wide-ranging subjects, from portraits of the backs of people's heads, to still-lives depicting the contents of their refrigerators. The title of the series, "One Week One Book", is both a statement of artist intention and call to action for the reader. Schaub challenged himself to make a photographic essay on a single subject, and turn it into a book, every week for twelve weeks. READ ABOUT THE SERIES
Behind the Line is available as a single book or in a set of twelve titles.
DETAILS: 56 pages | 8"x9" | perfect-bound | 2020 | ISBN 978-1-927587-47-8 | Published by Kasini House