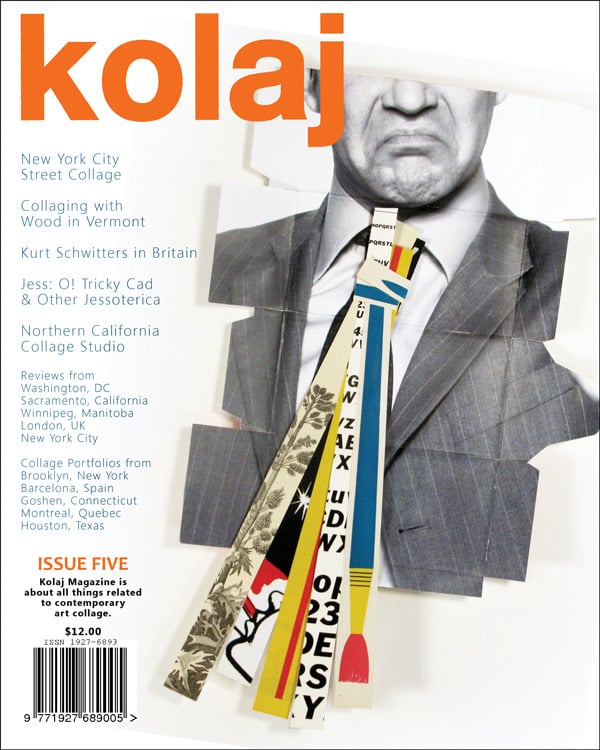 Kolaj - Issue Five
by Kolaj
$

15.00
---
---
THREADS OF PERCEPTION
In the fifth issue of Kolaj Magazine, Allan Bealy's Tie is on the cover. This Brooklyn artist is doing interesting things with the insides of product boxes.
Editor Benoit Depelteau gives us his thoughts on that line between collage as fine art and craft collage.
Claudia Eve Beauchesne shares a profile of NYC street artist Dain.
Ric Kasini Kadour interviews Vermont artist Duncan Johnson who is collaging wood reclaimed from the town dump.
Ariane Fairlie reviews Ellen Gallagher's work at Tate Modern in London.
We look at new scholarship on the final years of Kurt Schwitters.
Cory Peeke reviews the book O! Tricky Cad and Other Jessoterica
Nancy Flagg gives us a glimpse at Northern California collagists with a review of a group show in Sacramento
Lisa Kehler reviews Greg Lamarche's "All of the Above" exhibition at Graffiti Gallery in Winnipeg, Manitoba.
Elizabeth Hazard reviews tells us about Elektra KB's "There are Women at the Gates Seeking a New World" at BravinLee in New York City.
We go inside Ross Carron's studio.
We take a look at portfolios from Brooklyn, New York; Barcelona, Spain; Goshen, Connecticut; Montreal, Quebec, Canada; and Houston, Texas.
And, as always, there's a new Cut-Out Page.
And much much more.
Details: 10″x8″ | saddle stitched |
ISSN 1927-6893 | Published by Maison Kasini