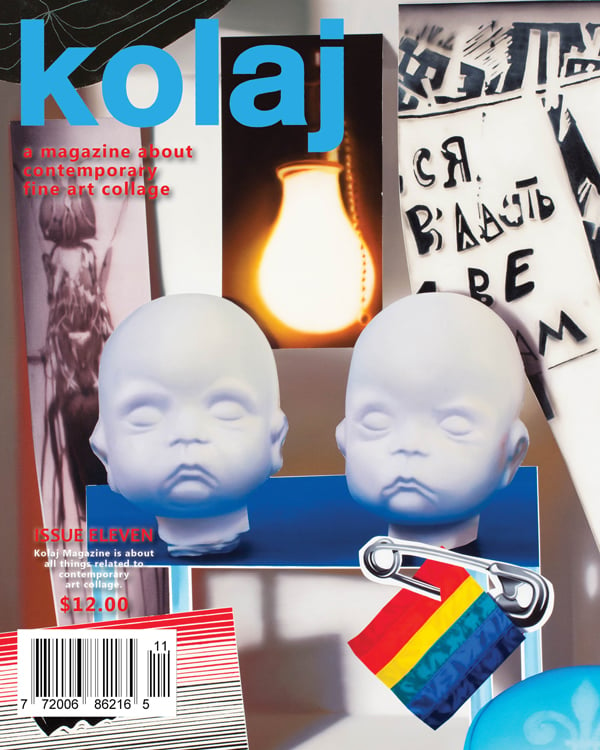 Kolaj - Issue Eleven
by Kolaj
$

15.00
---
---
Released in January 2015.
In this Issue: "Medium & Genre" is the theme of Associate Editor Ariane Fairlie's editorial in Issue 11.
On the Cover is Montreal artist David Elliott's Two Buddhas. An interview with Elliott, "Shadow Boxer", by Ariane Fairlie explores how is painting crosses multiple mediums
In News & Notes, we remember Martin Copertari, who died in late 2014. Allan Bealy launches his collage alphabet, Z2A. Nancy Bernardo deconstructs Brad Pitt. Two American collage associations, the National Collage Society and Collage Writers of America, have their annual, juried shows.
Daniel Kany reviews "Cubism: The Leonard A. Lauder Collection" at New York's Metropolitan Museum of Art.
In "One Plus One Became Three", Kimberly Musial Datchuk interviews Vermont artists Blake Larsen and Alex Costantino about the art of collaboration.
The Joy of Dumpster-Driven Art Making is the theme of "Junked Art" by Liz Cohn.
Brooklyn-based artist Kenan Juska unveiled his "Daily Operation", an installation of over 500 assemblages, at Pioneer Works in late 2014. Claudia Eve Beauchesne interviewed the artist.
Kevin Sampsell gives his first-hand account, "My Rookie Season in Collage".
Issue 11's Exhibition In Print has the theme of Broken Bodies. Curated by Ric Kasini Kadour.
Luigi Galimberti Faussone reviews Anselm Kiefer's monumental collages at the Royal Academy of Arts in London.
Artist portfolios from Burlington, Vermont; Montreal, Quebec; San Francisco, California; and Edmonds, Washington.
And as always, a new Cut-Out Page and Artist Directory.
Details: 10″x8″ | saddle stitched |
ISSN 1927-6893 | Published by Maison Kasini